Damien was born in Kells, County Meath, Ireland. He spent 2 years as an assistant pro in Portmarnock Golf Club under Joey Purcell before turning professional in 1991. In 1997 he then spent 8 years as the Club Professional in Wexford Golf Club before securing his card on the European Tour in 2003 and has had full status on the European Tour since.
Damien joined Carlow Golf Club in 2018 where he now resides as the Club Professional. He offers services including golf tuition, club repairs, golfing accessories and equipment.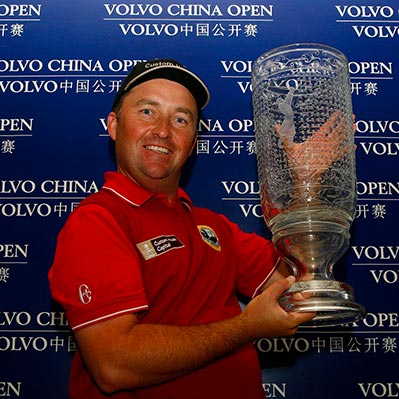 After winning the Irish PGA Assistants Championship in 1994 and 1994 and the Irish PGA Southern Championship in 1999, Damien clinched his first European Tour Title on 20 April 2008 at the Volvo China Open, winning by nine strokes, and ended the 2008 season ranked in the top thirty of the Order of Merit for the first time.
Damien nearly added a second title at the 2012 Trophée Hassan II, but, having shared the third round lead, shot 70 on the final day and had to settle for second place. He retired from the European Tour in 2015 and continues to have a successful career in the Irish PGA.
Damien now plays regularly on the Irish PGA Regional tour. He won the Irish PGA Championship in 2016 and 2019. He has also played in the PGA Cup in 2000 and was on the winning team in 2017.
I went to Damien to get a putter altered and I would highly recommend him, he really knew his stuff, friendly and approachable, made some great suggestions and threw in some putting tips too.
I have been dealing with Damien since he became Club Pro in Carlow in 2018. I have bought clothing and a new set of clubs, as well as taking lessons from him. He is easy to deal with and very interested in making sure your game improves.
I can recommend him for all your golfing needs.